Contact
Dunn's Landing is located at 4553 Ohio Road in Wellsville, Kansas. We are a short drive from Baldwin City, Ottawa, Lawrence, Topeka, and Kansas City. You can call Robin at (785) 418-9957 for information or to schedule a showing at the Dunn's Landing farm, or Sharon at (785)248-4573 for bookings at the Orchard House Bed & Breakfast. Feel free to use the form below to contact us for information as well, and we'll contact you promptly!
Directions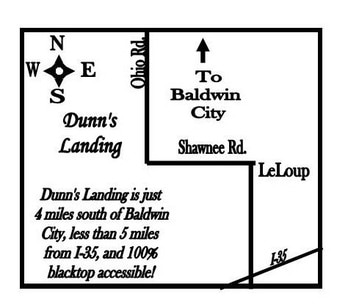 From Lawrence---

Take Iowa St. which turns into Highway 59 South. Continue on 59 heading South for approximately 10 miles. Take a left at Highway 56. Continue on 56 to Baldwin City. Take a right at Sixth St. in Baldwin. Continue on Sixth Street which will become Ohio Road. Dunn's Landing is approximately 4 miles from Baldwin on Ohio Road. You will see the farm on your left at 4553 Ohio Road.

From I-35 (North or South)---

Take exit 193 Tennessee Road. Go north on Tennessee until you reach Shawnee Road. Turn left on Shawnee Road. Continue for approximately 1.5 miles to Ohio Road. Take a right on Ohio Road. Continue for approximately 1 mile. Dunn's Landing is on your right at 4553 Ohio Road.
---
History of Dunn's Landing
Dunn's Landing has been in the Dunn Family through four generation since it was purchased by Duanna Dunn in 1907. Dunn's Landing is owned and operated by Robin Dunn, great-granddaughter of Duanna. Robin took the reins of the 1,000 acre working farm in 1993. Since then Robin has continued farming the land and has worked continuously to ensure that Dunn's Landing remains true to its historical roots.


The Farm
Dunn's Landing is a female owned and operated 1,000 acre working farm located in Wellsville, Kansas. The century old dairy barn has been converted into a special event facility which serves as an elegant reception area. The specially designed draft horse barn is home to our two teams of draft horses, as well as other horses, and even some chickens.